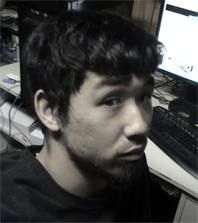 Ahoy hoy. I'm Chris and sometimes I do art stuff. I am a graduate of the 3D animation program at Humber College, though all animated work I have done is in Flash (which I have a love/hate relationship with, at least I did with CS3). I handle the Photoshop duties for my dad's web comic, The Health Inspector's Notebook (although it was his idea to use Papyrus font, not mine, honest). I am also a licensed security guard and a background extra signed to Toronto Film Extras, so sometimes I am on TV (you can see me on the Showcase website! Or, half my head, at least). You can see a list of shows I have been on in the Acting Work section. My first gig was the season finale of Season 14 of Degrassi, and on 20 minutes of sleep because I was up all night preparing (okay, I was also watching my friend's Ramones cover band, so yeah).
Personal stuff: I am a punk rock listening, concert going-to, video game playing, sometimes guitar and bass playing type person who is terrible at watching Netflix because I usually watch it on my Xbox, which I usually use to play video games. I also collect vinyl and some video game art books and knick knacks.
That's pretty much it. Note to self, find some insightful quote to paste here to make you look less boring than you really are.